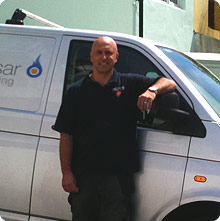 Testimonials
Central heating replacement system
Matt and the team managed to replace entire central heating system in a week when we were on holiday. They packed it in and worked so hard to get it done for us. We were consulted about changed and given all the paper work for what was spent. I'd really recommend him.
Score:9.8 - Customer in Brighton, 10 May 2013
Gas safety check
Matt responded very quickly to my request for doing the gas safety check and liaised with my tenants to make a convenient appointment. As always, a very prompt and professional service. Thank you.
Score:10 - Customer in Brighton, 24 April 2013
Connecting gas hob
What a gent - shook hands and was very polite all the time he was here. He was quick and efficient at the job and made sure everything worked before he went. He was reliable albeit a little lost when trying to locate my address but he made it! Safety was of paramount importance to him and I will be able to inform my housing association that the work was carried out correctly and a receipt has been sent to me. Payment online via bacs was a doddle! I will certainly recommend him to my friends.
Score:9.8 - Customer in Brighton, 23 April 2013
Had a slight gas leak for several years
Phoned Mat and he turned up same day at time agreed. He checked gas loss at meter which was an acceptable level then used a gas locator tool in the laundry room where gas leak caused gas alarm to go off. This is not a carbon monoxide detector but natural gas detector. Mat's tool did register a "one" from space between floors where piping is. Mat said leak was very small and recommended we put an air vent in. We only occasionally can smell a slight gassy smell and just wanted it checked out. Mat was thorough in his checks and was very polite.
Score: 10 - Customer in Brighton, 17 April 2013
Replaced old boiler
I am so glad I took Matt's advice and replaced our old boiler (which was in need of repair) with a new one he recommended. Our house is so cosy and warm now! Matt carried out his work in a polite and courteous manner. Matt also has excellent communication skills - he kept me well informed prior, during and after the work was carried out. His electrician was also brilliant! I will definately be using them again.
Score: 10 - Repeat Customer in Brighton, 25 March 2013
Refit of shower room
Very impressed with the refit of our shower room. Rick the fitter/tiler has a professional attitude and pride in his work which shows in the end product. He always kept the area tidy and minimized any disruption caused by having work done.
Score: 10 - Customer in Hove, 25 March 2013
Install new combi boiler, remove all old parts and install
new radiators.
Matt is very a very courteous and trustworthy person who takes great pride in his work. We went abroad, left him with the key to do the work, and also to befriend our cat! There were a couple of thing to change when I came back and he sorted them immediately. Highly recommended.
Score: 8.8 - Customer in Brighton, 22 February 2013
Serviced our boiler
Efficient and on time. This was the annual service for the warranty on the boiler he had fitted last year.
Score: 10 - Customer in Brighton, 20 February 2013
Yearly maintenance on boiler.
Matt installed boiler and carries out yearly maintenance.
Score: 10 - Customer in Brighton, 6 February 2013